These are instructions for upgrading eTouch for Health 3.x using Client and Session data that has been backed up from a current copy of eTouch for Health 2.x. Upgrade versions of eTouch are available only for registered users of eTouch for Health. If you are not sure if you are registered (if you purchased directly from us you are automatically registered) please send an email to: support @ etouch for health.com (remove spaces).
• Purchase 3.0 Upgrade for Windows Vista and Windows 7 or later
• Purchase 3.0 Upgrade for Macintosh Lion and Macintosh Mountain Lion or later
1. Making a backup CD/DVD
2. Copying files
3. Renaming files
4. Actively participating in the backup by responding to dialogs and prompts
---
Optional Upgrade Conversion Service
This upgrade is a little more involved than past upgrades due to the fact that there is a file format conversion of the backup files before they can be accessed. While not a complex technical challenge, this upgrade does involve basic computer skills. For this reason, we also offer a Upgrade Conversion Service for a modest fee. For this service, you purchase an upgrade copy of eTouch and also the Upgrade Conversion Service. You then send us a copy of your eTouch Backup Folder containing your most recent backup files. We will then perform the conversion for you, add your data to the new copy of eTouch and send to you ready to install and run with all of your past data.
• Purchase Upgrade Conversion Service
---
Steps for Upgrading from eTouch 2.x to eTouch 3.x
Step 1 - Backup your current Client and Session files when exiting your current copy of eTouch for Health 2.x

• A copy of your current Client and Session records are then saved into the eTouch for Health 2.x Backup Folder.
Step 2 - burn a backup copy of these files using either a CD or DVD
• If you are using the Upgrade Conversion Process, this CD/DVD is what you will send to us for use in the conversion. If you are not using this process and performing the upgrade yourself, then continue to Step 3
Step 3 - Install your new copy of eTouch for Health 3.x but ***Do Not Open It***
Step 4 - Copy all your backup files made in step 2 to the Backup folder located in the eTouch for Health 3 folder (this will be located in Applications folder on the Mac and your personal Documents folder on Windows. Replace any and all duplicates.
Step 5 - Rename four files which are now located in your eTouch for Health 3 backup folder by entering a '3' in their name as indicated below:
• When you open your new copy of eTouch, the following dialog will appear. You have an option of installing as a new Fresh Start installation or as upgrade.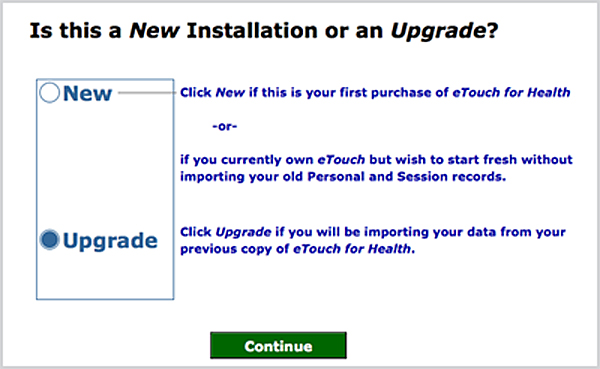 ---
This is a semi-automated routine and requires participation by you as the file conversions occur. As the files are converted, they will attempt to open automatically. Whenever Alpha.ETH or Alpha3.ETH attempt to open, you will close these. This will happen multiple times during this process! Whenever the other files are converted and attempt to open, you will open these by entering the Account Name and Password (Hope) which is case-sensitive.
---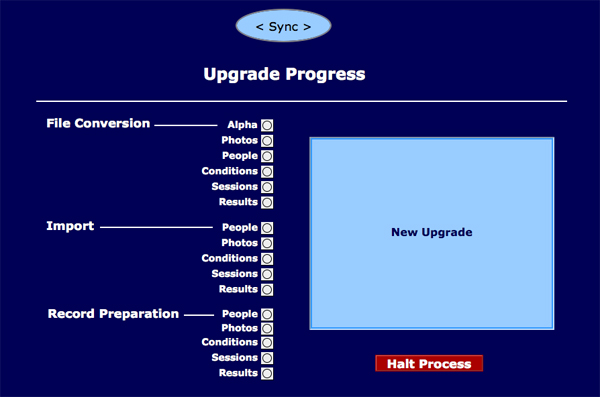 The upgrade progress will be shown on this screen. The major parts of the upgrade process are: File Conversion; Importing of Data into the Sync Utility; Data Preparation (creation of Universal IDs); and Updating of the new installation of eTouch for Health 3.x with the old data from the eTouch for Health 2.x.
Most of the required interaction by you is during the File Conversion process.
The Sync Utility was created specifically for this upgrade but also has other powerful potential capabilities. With having the possibility of a primary computer and a supporting computer like the iPad, you may end up with records split between the two computers. The Sync Utility has been designed to perform complex synchronizations between different installations of eTouch. This capability can also be used for referrals.
Synchronization requires the use of Universal IDs. In the previous versions of eTouch, we used sequential numbering to identify people and sessions. In version 3.0, we use the Universal ID method so that each person and session has a UNIQUE ID. This means that when People and Sessions are moved between copies of eTouch that their Unique Universal ID goes along with their records with the assurance that their numbers will not be duplicated. The IDs are now much longer, but theoretically will not be duplicated. We do retain the old sequential numbers and they are one component of the Universal ID.
1. Do you wish to keep your old Sample Tester and Sample User or do you wish to use the new ones included in this upgrade? This is asked because several new options have been added to the new Sample User (three sample sessions. One is the session that records the session performed by Dr. Thie when illustrating the Balance-As-You-Go balancing technique) You may not want to replace your existing Sample Tester and Sample User if you have used them for recording either sample or real sessions.
2. Do you wish to automatically add the old records to your new copy of eTouch now that they have been prepared or do you wish to review the changes before adding? This allows you to check the data before it is added to your new installation of eTouch for Health 3.x.