For Mac Catalina 10.15 and above, please go here for instructions.
Apple iTunes is the bridge app between your Primary Computer and your iOS device. iTunes is used to install your files, updates files and move datafiles between your device and Primary Computer.
• If you do not have iTunes installed, go here and to download and install.
• Go to Main Menu of eTouch and close the program
• Connect your device to your desktop or laptop computer using the device's cable.
• Open iTunes on your device
• First click the small icon at top to bring up devices. See red arrow shown in following illustration.
• Select your device's icon in the left column under the Devices section.
In our example, the device is Earl Cook's iPad 2.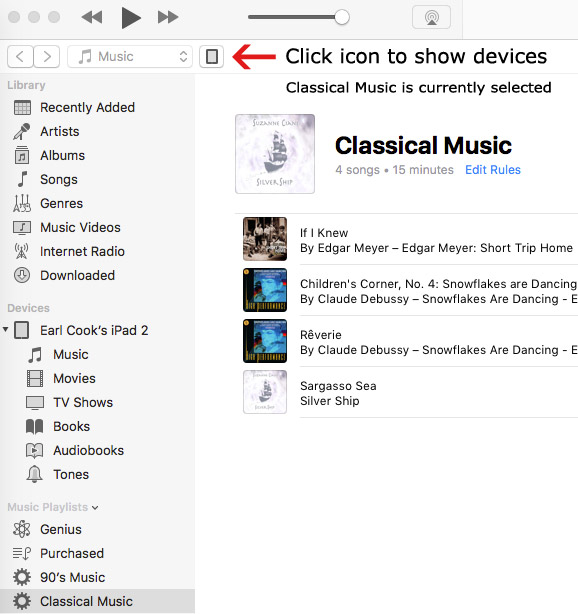 Scroll down until you see File Sharing. This is where FM Go and eTouch will live.
• Click on File Sharing
File Sharing will show up on right.
• Click on FileMaker Go in the list under File Sharing.
Note: We have also noticed that the scroll bars on the iTunes store are sometimes difficult to distinguish.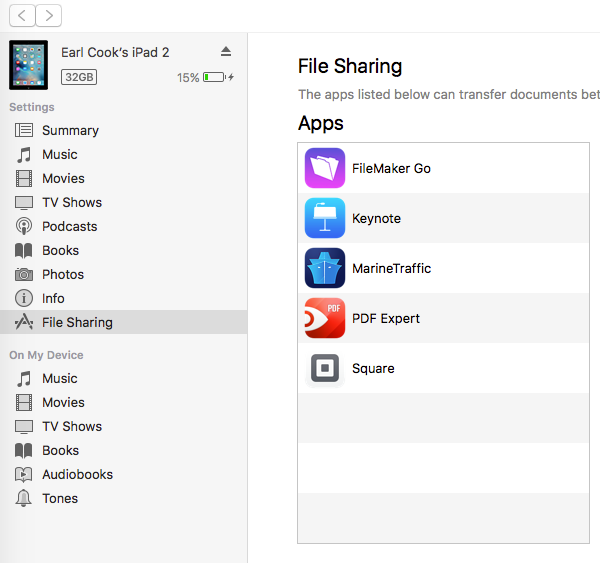 A list of apps will be displayed
• Select FileMaker Go
• Scroll all the way to the bottom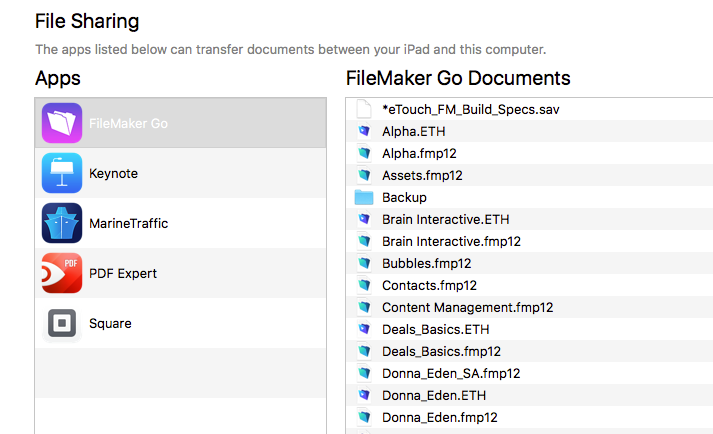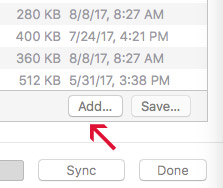 • Click the Add... button (Located bottom right of the FileMaker Go Documents window)
• Select your eTouch for Health folder (My Documents folder in Windows, Applications folder in Mac)
• Select All Files
• Deselect eTouch for Health and the alias if there is one. (Make sure that this file is NOT copied to your device.)
Windows: Control Click on a single file to select or deselect

Mac: Command Click on a single file to select or deselect

Note: Do not copy the eTouch for Health app. If you accidentally copy the file, the app will be exploded into dozens of files that not part of eTouch. These files can be deleted using iTunes by selecting and hitting the delete key
• Click Add... at bottom
• Click the Open button to copy all files over except eTouch for Health and the alias if there is one.
The eTouch files will be copied to the device.
• Unmount your device. Click the Disconnect button beside the device in the Devices list (always do this before disconnecting your device)
• Unplug your device from your desktop or laptop.