When in an eTouch for Health session, there are multiple screens where you can test and enter results. In this eTip, we will be using the Test Log.
When creating your session, you have the option to select your testing format. When prompted click the first icon in the rectangle labeled, Test Log.
Note: You can switch back and forth between formats anytime you chose during your session.

Click the Test Log Icon (See white arrow above.)
In this eTip we are creating a 42-muscle session. All 42 muscles will be displayed in the Long Test Log. See example below.
Set Anatomical Order
Click and hold on the word Meridan.
(See arrow. Top left corner of Test Log.)
A popup list will show with the options: Meridian; Anatomically and Alphabetically. Meridan will have a check mark to its left indicating current sort order.
Select Anatomically. The checkmark will indicates that you it selected.


Next, you must also click the Grey Button immediately to the right.
Now the order should be changed to Anatomical order.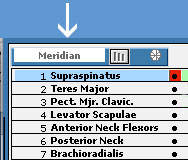 Important: After selecting Anatomically, you must also click the Grey button to the right to set. See white arrow below.